Get to know us!
Micromatics Machine Company, Inc. was incorporated in 1979 as a screw machine product manufacturing firm. Engineer Steven Brown came on board as Chief Executive Officer in 1980. At that time, the company consisted of only three people, and like many small machine shops, Micromatics' early facility was a garage.
Micromatics reached a new level with the purchase of its first CNC Turning Center, which enabled the company to enter the field of high-precision machining. New advances in the industry changed the way Micromatics conducted business. Under the direction of Steve Brown, Micromatics invested in new computers, replaced hardware with software, and trained machinists to manage new advanced equipment.
With more than three decades of experience, Brown contributed to the success of the company by offering his knowledge of the industry from an engineering perspective. Brown encouraged all of his employees to keep abreast of technological advances with continuous education; a necessity in the fast-paced field of manufacturing.
This philosophy is still fostered by co-owners, Bill Rigg and Anita Brown, today. Since its inception, Micromatics' goal has been to take advantage of the most current advances in machine tool technology. By utilizing the latest electronic/digital developments, Micromatics aims to achieve greater automation, increased reliability, and more efficient processing. Over the years Micromatics has worked with companies from a variety of fields including laser optics, medical, aerospace industries and liquid/gas control systems.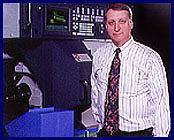 Steven Brown - Founder